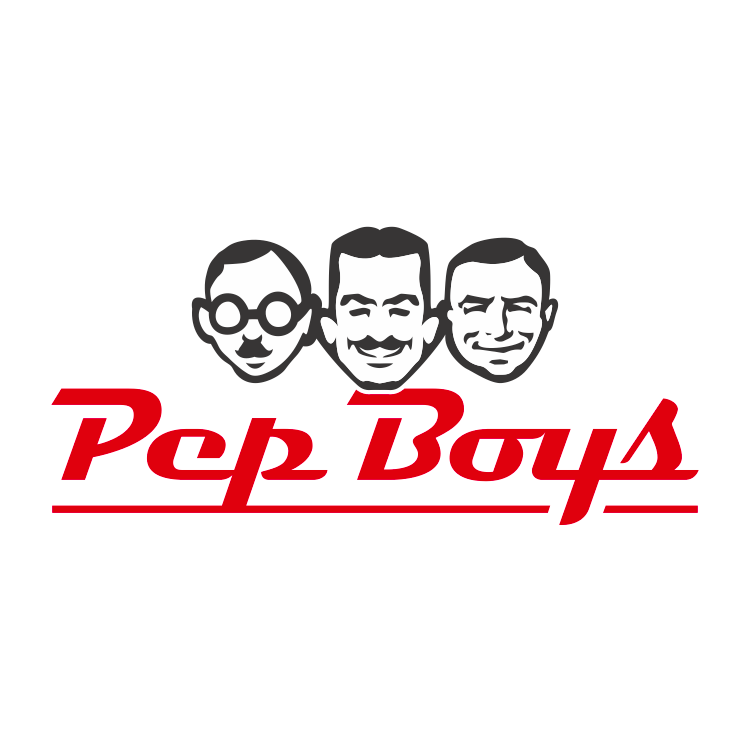 Pep Boys Auto Parts & Service
Auto Repairs Glassboro
15k+ Parts & New Low Prices. Shop Online/Instore.
Landline

(856) 256-8000

E-Mail

Twitter

Facebook

Website

Reservations

Description
Pep Boys retail and service location stocking over 15, 000 more parts and tires at lower prices. Introducing Wagner brakes, Moog suspension and Champion products along with all of the tools and garage equipment to do-it-yourself. From parts, tools and garage equipment to electronics and appearance products, it's all available instore or online. Auto repair services are available 7 days, 6 nights a week a week with ASE certified technicians. Tow-to-Pep service available. Go to pepboys.com for appointment scheduling and to shop online.
Pep Boys Auto Parts & Service can be found at 711 N Delsea Dr . The following is offered: Auto Repairs - In Glassboro there are 8 other Auto Repairs. An overview can be found here.
Products And Services
Pep Boys Basic Brake Service Package

The Pep Boys Basic Brake Service package includes a thorough brake system evaluation, brake pad or brake shoe replacement, and resurfacing of drums or rotors on the serviced axle(s) performed by our certified professional Pep Boys technicians. Select one of four replacement brake pad or brake shoe options that best fit the needs of your vehicle. Includes: • ProStop Package As Low As $129.99 per front or rear brake service ($99.99 after mail-in rebate) • ProStop Platinum Package As Low As $179.99 per front or rear brake service ($149.99 after mail-in rebate) • ProStop Ceramic Package As Low As $199.99 per front or rear brake service ($169.99 after mail-in rebate) • Akebono Ultra Ceramic Package As Low As $219.99 per front or rear brake service ($189.99 after mail-in rebate)

Video: Pep Boys Basic Brake Service Package

Pep Boys Basic Plus Brake Service Package

The Pep Boys Basic Plus Brake Service package provides the elements your vehicle needs to work as originally designed. Brake service package is inclusive of the Pep Boys Basic Brake Service level offerings, PLUS new brake hardware and longer labor warranties! Select one of four brake pad or brake shoe replacement options that best fit the needs of your vehicle. Includes: • ProStop Package As Low As $149.99 per front or rear brake service ($119.99 after mail-in rebate) • ProStop Platinum Package As Low As $199.99 per front or rear brake service ($169.99 after mail-in rebate) • ProStop Ceramic Package As Low As $219.99 per front or rear brake service ($189.99 after mail-in rebate) • Akebono Ultra Ceramic Package As Low As $239.99 per front or rear brake service ($209.99 after mail-in rebate)

Video: Pep Boys Basic Plus Brake Service Package

Pep Boys Complete Brake Service Package

The Pep Boys Complete Brake Service Package offers the next echelon of brake system service. Evaluating the operation of your vehicle's hydraulic components and replacing worn parts is critical to maintaining a long brake system life. Service package is inclusive of the Pep Boys Basic Plus Brake Service level offerings, PLUS a complete brake fluid exchange and even longer labor warranties! Select one of four brake pad or brake shoe replacement options that best fit the needs of your vehicle. Includes: • ProStop Package As Low As $199.99 per front or rear brake service ($169.99 after mail-in rebate) • ProStop Platinum Package As Low As $249.99 per front or rear brake service ($219.99 after mail-in rebate) • ProStop Ceramic Package As Low As $269.99 per front or rear brake service ($239.99 after mail-in rebate) • Akebono Ultra Ceramic Package As Low As $289.99 per front or rear brake service ($259.99 after mail-in rebate)

Video: Pep Boys Complete Brake Service Package
The Pep Boys Difference

With 700 tire shops and service centers nationwide, Pep Boys is committed to providing our customers with industry-leading service that's fair, fast and accurate. When you come to us for tire service, you can expect our associates to... • Meet and greet you with enthusiasm • Clearly understand your service request • Supply you with a copy of your vehicle's original equipment maintenance schedule • Give you a clear explanation and estimate of the service that is matched to the conditions you describe • Provide a clear explanation and estimate of the steps needed to repair your vehicle properly • Provide you with fast, expert service • Ensure your tire service is complete and your vehicle is ready when promised

Video: The Pep Boys Difference

Link: The Pep Boys Difference

Categories
Auto Repairs
(856)256-8000 (856)-256-8000 +18562568000